SNS is an industry-led initiative aimed at representing, promoting, developing and connecting companies in the mid & south west of Ireland.
Our aims
Facilitating business opportunities • Enhancing cooperative learning • Developing market focus • Collaboration between platforms: Industry, Academic and Public Sector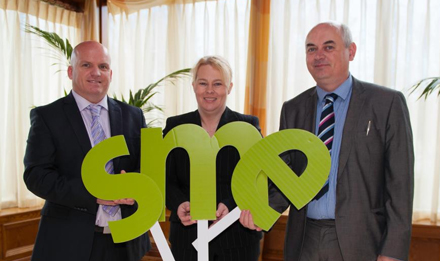 Encouraging collaboration for collective success
SNS facilitates the development of its members, enabling them to flourish in the rapidly changing environment
Business networks are the way forward
The challenge for SNS is to leverage their experiences and evolve into a national reference model for Business Networks as they are the way forward for Enterprise development within Ireland
Join SNS and develop your business further by making new contacts and creating new opportunities
Research & Development
Research and development focus of SNS
1. Assist member companies to access and apply for research funding which will be of benefit to individual businesses
2. Carry out research at a network level on behalf of members
Example projects:
FutureSME is an 8 million Euro project funded through the FP 7 NMP program
InsulaTFH is an approx. €700,000 grant aided project within the ECO-Innovation programme
SUPPER is an approx. €750,000 grant aided project also within the ECO-Innovation programme.
EU programs
If you have an idea or are interested in learning how the SNS R&D committee can help you, please contact us for an informal chat. We can advise on the applicability of your idea and can also steer you towards the most appropriate EU funding program Benefits
Get advice on the most appropriate application areas for research of relevance to your business
We can help draft the proposal for you and also assist in pulling together a robust partnership. We can also help in managing projects for you
By leveraging EU funding, you can significantly augment your range of products and services
Energy & Environment
Supply Network Shannon (SNS) is delighted to have been approved for funding under Phase 6 of the Environmental Protection Agency's Cleaner Greener Production Programme (CGPP6) and the EPA's National Waste Prevention Programme.
The SNS project that has been approved is:
Supply Network Shannon – Promoting Resource Efficiency in the Supply Chain
The general scope of this initiative is to encourage SNS member companies to use environmentally positive achievements to gain significant competitive advantage.
SNS represents approximately 40 sub-supply companies on a cluster basis, primarily in supply of electronics and components to other manufacturers in the supply chain. Through previous initiatives, many SNS member companies have progressed to a stage where they have made significant achievements in improving resource efficiencies in their operations. The next progressive step is to publicise their achievements to their clients and other stakeholders. Likewise, they can also better communicate environmental criteria back the supply chain to their own suppliers. With the recognition to be gained, companies – and their employees – will be encouraged to further improve on resource efficiencies and waste prevention.
Benefits for the project participants
Heightened awareness of the importance of environmental credentials
Onsite financial savings for participant businesses
Improved competitive advantage
Improved resource efficiencies, reduction in negative environmental impact
Many SNS member companies have now progressed to a stage where they have already made significant environmental achievements. Their next step is to publicise their achievements so that their clients and other stakeholders can learn about this valued aspect of the business.
The focus will be to aim at SMEs and will centre on highlighting the benefits of businesses promoting successful environmental performance. Companies will be encouraged to implement or improve on resource efficiencies and waste prevention.
The project will involve contact with individual member companies to encourage them to use environmental performance to competitive advantage, such as:
Reducing direct costs through improving resource efficiencies, such as optimum use of energy, materials and water. Bottom line satisfactory performance protects the company against potential lower cost competition.
Obtaining positive publicity and media coverage thanks to their high standard of environmental performance.
Coming up with a new product design or improving the design of their existing product or service that ensures greater efficiency for the consumer, for example higher energy efficiency or minimisation of waste in end-use application.
Other options are finding a niche market in this area of the increasingly significant green economy.
Training will focus on how to implement and make the most of environmental achievements, using marketing tools such as company website, product and service promotional material, press releases and social media outlets, such as Twitter, Facebook and LinkedIn.
Topics to be covered in training will include:
Design for the environment
Greening the supply chain
Effective training for employees
Packaging and waste prevention
Process waste minimisation
Potential for reuse and upcycling ( e.g. involvement with SMILE Resource Exchange)
Energy efficiency
Water conservation
Lean Green
Transport efficiency solutions
The businesses will have heightened awareness of how the environmental factor can be that vital difference between them and their competitors. Such an advantage could mean success or failure in keeping a business going. There is always competition with cheaper imports, but a local product can still be successful if there is more to offer than just the functioning product. More discerning customers or end-users are now influenced by the attitude of the supplier in relation to environmental performance. This project will allow the opportunity of working out the carbon footprint of locally produced items for input into the supply chain, compared to that of cheaper imports. This could form an on-line tool for project participants and would take into account the carbon savings from transport of goods and travel of people for contract negotiation.
Underpinning all of the above benefits is the general benefit of improved resource efficiency, reduction in negative environmental impact and reduction of carbon footprint. From similar past projects it is envisaged that the following savings can be made by participant companies:
Waste reduction 5% – 10%
Energy reduction 10% -15%
Water conservation 5% -10%
Links
In addition to the above websites, individual local authority websites also provide information on environmental legislation and related guidance.
Committee
Committee Members
Gerard Murray            Patrick Byrnes              Eugene Higgins
Declan Bracken           Carmel Bracken          Pat O'Flynn
Tom Hampton              Herbert Burke              Paul Browne
Richard Fox                   Frank Keohane             Joe Purcell
John Kennedy             Pat O'Meara                  Gerard King
Margaret Murphy      John O'Brien                Sean Ryan