SNS is an industry-led initiative aimed at representing, promoting, developing and connecting companies in the mid & south west of Ireland.
Our aims
Facilitating business opportunities • Enhancing cooperative learning • Developing market focus • Collaboration between platforms: Industry, Academic and Public Sector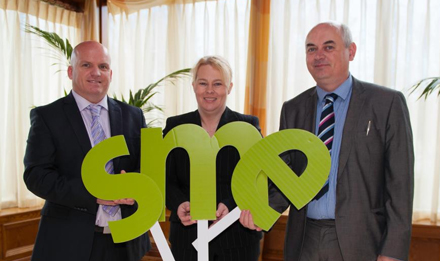 Encouraging collaboration for collective success
SNS facilitates the development of its members, enabling them to flourish in the rapidly changing environment
Business networks are the way forward
The challenge for SNS is to leverage their experiences and evolve into a national reference model for Business Networks as they are the way forward for Enterprise development within Ireland
Join SNS and develop your business further by making new contacts and creating new opportunities
Research & Development
Research and development focus of SNS
1. Assist member companies to access and apply for research funding which will be of benefit to individual businesses
2. Carry out research at a network level on behalf of members
Example projects:
FutureSME is an 8 million Euro project funded through the FP 7 NMP program
InsulaTFH is an approx. €700,000 grant aided project within the ECO-Innovation programme
SUPPER is an approx. €750,000 grant aided project also within the ECO-Innovation programme.
Energy & Environment
Supply Network Shannon (SNS) is delighted to have been approved for funding under Phase 6 of the Environmental Protection Agency's Cleaner Greener Production Programme (CGPP6) and the EPA's National Waste Prevention Programme.
The SNS project that has been approved is:
Supply Network Shannon – Promoting Resource Efficiency in the Supply Chain
The general scope of this initiative is to encourage SNS member companies to use environmentally positive achievements to gain significant competitive advantage.
Committees